Do you seek connections among the diverse phenomena you encounter daily?  Welcome to a space on the Web that explores the confluence between natural and cultural environments, that looks at the world in
four dimensions, in time as well as space.

Please take a moment to look at David's books, read one of his essays or savor a few poems.  Find out where he's speaking next, or enjoy a slideshow of the last undiscovered place.
I ask not for the great, the remote, the romantic; . . . I embrace the common, I explore and sit at the feet of the familiar, the low.
                   Ralph Waldo Emerson

                         Now Available! 
             FINDING THE LAST HUNGRY HEART
                                          A Novel in Verse
              Enter a world where the past is present and stories matter
Come to the confluence of the present and the 1960s.  Caleb Dempster, a disillusioned refugee from that turbulent era makes his living operating a municipal landfill, dealing with the waste of a society he'd once strived to change.  One night Dempster catches some teens climbing the landfill fence in the hope of spotting a bear that's feeding on the garbage.  The kids' interest in Dempster's past, including a wild cross-country hitchhiking trip, enables him to see some value in experiences that had only tormented him with disappointment.  Following some hardball small town politics and violence, the kids enable Dempster to triumph by finding value in what he had thought was a wasted youth of unfulfilled promises.
Available at  http://homeboundpublications.com/finding-the-last-hungry-heart-bookstore/

TINKER'S DAMN
New Poems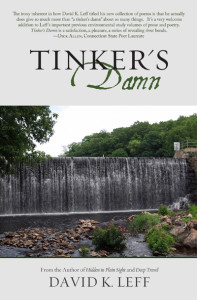 Deeply rooted in place and time, these poems explore nature, the built environment, and human relationships with an acute sense of reverence and wonder that renews the spirit.
Available at http://homeboundpublications.com/tinkers-damn-bookstore/