Do you seek connections among the diverse phenomena you encounter daily?  Welcome to a space on the Web that explores the confluence between natural and cultural environments, that looks at the world in
four dimensions, in time as well as space.

Please take a moment to look at David's books, read one of his essays or savor a few poems.  Find out where he's speaking next, or enjoy a slideshow of the last undiscovered place.
I ask not for the great, the remote, the romantic; . . . I embrace the common, I explore and sit at the feet of the familiar, the low.
                   Ralph Waldo Emerson

Now Available!  TINKER'S DAMN
New Poems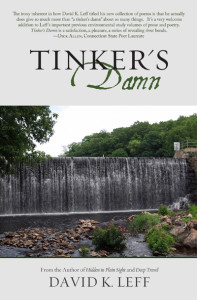 Deeply rooted in place and time, these poems explore nature, the built environment, and human relationships with an acute sense of reverence and wonder that renews the spirit.
Available at http://homeboundpublications.com/tinkers-damn-bookstore/